Report : Asia Pacific Aerospace & Defense Power Connector Market Forecast to 2027 - Covid-19 Impact and Regional Analysis by Current Rating (5Amp to 40Amp, >40Amp to 80Amp, >80Amp to 150Amp, >150Amp to 300Amp, >300Amp to 600Amp, >600Amp to 900Amp); Connector Shape (Rectangular and Circular); Application (Aerospace, Military Ground Vehicle, Body-worn Equipment, Naval Ships)
5Amps to 40AmpsCurrent RatingSegment to Dominate Asia-Pacific Aerospace & Defense Power Connector Market during 2020–2027
According to our new market research study on "Asia-PacificAerospace & Defense Power Connector Market to 2027 – Regional Analysis and Forecast by Current Rating, Connector Shape, Application,"the market is expected to reach US$ 256.23Mn by 2027 from US$ 439.09Mn in 2019; it is estimated to grow at a CAGR of 7.2% from 2020 to 2027.The report provides trends prevailing in the Asia-Pacificaerospace & defense power connector market along with the drivers and restraints pertaining to the market growth. The growth of the market in this region is attributed to rising demand of commercial aircraft.However, reduction in production of wide-body aircraftrestrains the growth of the aerospace & defense power connector market.
The aerospace & defense power connector market, by current rating, is segmented into 5Amp to 40Amp, >40Amp to 80Amp, >80Amp to 150Amp, >150Amp to 300Amp, >300Amp to 600Amp, >600Amp to 900Amp. The 5Amps to 40Ampssegment held the largest share of the Asia-Pacificmarket in 2019. A few of the application areas of power connectors with this amperage range include commercial aircraft cabin systems and unmanned airborne systems. These connectors are capable of mating quickly, and conferring superior durability as well as ensuring proper connection via connector position assurance (CPA).
Amphenol Corporation, Eaton Corporation plc, TE Connectivity, MOLEX, LLC, ITT Inc, Fischer Connectors SA, AMETEK Inc., Collins Aerospace, Radiall, and Arrow Electronics, Inc are among the leading companies in the aerospace & defense power connectormarket. These companies are focused on adopting organic growth strategies such as product launches and expansions to sustain their position in the dynamic market. For instance, in February 2020, AMETEK declared the completion of a significant hermetic connector production expansion.
Asia-PacificAerospace & Defense Power Connector Market, By Country, 2019 to 2027 (%)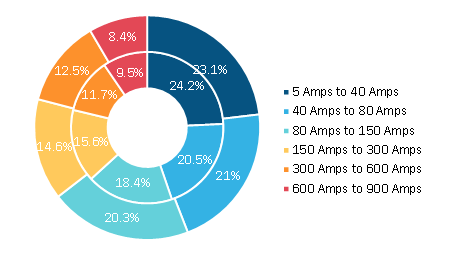 THE REPORT SEGMENTS THE ASIA-PACIFICAEROSPACE & DEFENSE POWER CONNECTOR MARKET AS FOLLOWS:
Aerospace & Defense Power Connector Market – ByCurrent Rating
5Amp to 40Amp

>40Amp to 80Amp

>80Amp to 150Amp

>150Amp to 300Amp

>300Amp to 600Amp

>600Amp to 900Amp
Aerospace & Defense Power Connector Market – By Connector Shape
Aerospace & Defense Power Connector Market – By Application
Aerospace

MilitaryGround Vehicle

Body-worn Equipment

Naval Ships
Aerospace & Defense Power Connector Market – By Country
Australia

China

India

Japan

South Korea

Rest of APAC
Contact Us
Contact Person: Sameer Joshi
Phone: +1-646-491-9876
Email Id: sales@businessmarketinsights.com
Download Free PDF Brochure
---