Remote Tower Market by Type (Single, Multiple, and Contingency), Component [Hardware (Airport Equipment, Remote Towers Module, and Network Solutions) and Software], End User (Commercial Airport and Military Airport): Global Market Size Estimates and Forecast (2019–2030)
Code:
BMIRE00025912
|
Pages:
100
|
Industry:
Aerospace and Defense
|
Date:
Sep 2022
|
Type:
Global
The market is expected to cross US$ 278.67 million in 2022 and is expected to hit US$ 1,068.71 million by 2030, recording a CAGR of 18.3% during the forecast period.
The Demand for Cutting Down the Operational Cost of Air Traffic Control (ATC) Towers is Propelling the Deployment for RTS and Boosting the Remote Tower Market Growth.
The growing demand for increasing the overall operational efficiency of airport systems through cost cutting and adoption of advanced automated systems that requires less manpower is catalyzing the market growth of remote tower technologies across the airport sector. Several airport authorities are taking sheer interest in the adoption of remote tower technologies. For instance, in January 2021, Micro Nav Limited signed a contract with Indra Systemas to provide support for their project of delivering a complete tower system as remote control of Budapest airport to HungaroControl. Similarly, in December 2019, LVNL has been awarded a contract to develop, install, and provide maintenance support of remote tower systems at airports across the Netherlands. Such developments are propelling the adoption of remote tower systems across different regions and catalyzing the market growth.
The multiple segment is expected to witness highest growth during the forecast period, This is owing to the rise in awareness for remotely control of multiple airport across the airport industry. Several vendors are collaboratively working on the testing and development of such remote tower technologies that will provide the capability to control multiple airports from one remote tower. For instance, since December 2021, DLR and Frequentis are working closely and are demonstrating in trials that remote monitoring of several airports from one control centre works.
Within the report, the market is segmented into type, component, and geography. By type, the market is segmented into single, multiple, and contingency. By component, the market is segmented into hardware and software. Further the hardware segment is segment into airport equipment, remote towers module, and network solutions. Based on end user, the market is bifurcated into commercial airport and military airport. Geographically, the market is sub-segmented into North America, Europe, Asia Pacific, South America, and Middle East & Africa.
Development of Smart Airports to Provide Future Opportunities for Market Vendors During the Forecast Period.
The development of smart airports across different countries are expected to generate new opportunities for market vendors during the forecast period. The improved and digitalized technologies that are integrated with smart airports can allow access to every system of the airport to remote control towers that is more efficient in terms of airport management. Several countries are focusing on the development of smart airports across their busiest air traffic areas whereas some of the countries such as China, Singapore, and the US are already having some major smart airports across their respective regions. Further, several airport authorities are also focusing on the conversion of general airports to smart airports that is again expected to drive the demand for remote tower solutions across those airports. For instance, in 2021, Airport Economic Regulatory Authority (AERA) of India announced that Kempegowda Airport, Bangalore, is expected to invest ~US$ 2.2 billion in the development of infrastructure to be able to handle ~90 million passengers by 2034. Additionally, in 2021, the Bangalore International Airport signed a 10-year partnership with IBM Corporation (to implement IBM Hybrid Cloud capabilities) along with Red Hat Automation, and Kyndryl managed infrastructure services that will help the airport operators to improve productivity, automate IT systems, and minimize costs. Such developments are propelling the number of smart airports across different countries and are likely to generate new opportunities for remote tower market vendors during the forecast period.
Rising Demand from Military Airports is Another Major Factor Accelerating the Remote Tower Market Growth.
The growing adoption of remote virtual towers across military airports is another major factor expected to catalyze the market growth during the forecast period. Several military airport authorities are majorly focusing on reducing their overall operational costs by adopting advanced and virtual technologies that are likely to generate huge opportunities for market vendors during the forecast period. For instance, in October 2018, the US DoD awarded a contract to FREQUENTIES to provide remote virtual tower (RVT) technology. The contract includes supply and installation of two fixed-base RVT systems and two deployable systems for use by the Air Force and other DoD agencies. Such developments are likely to generate huge opportunities for market vendors during the forecast period.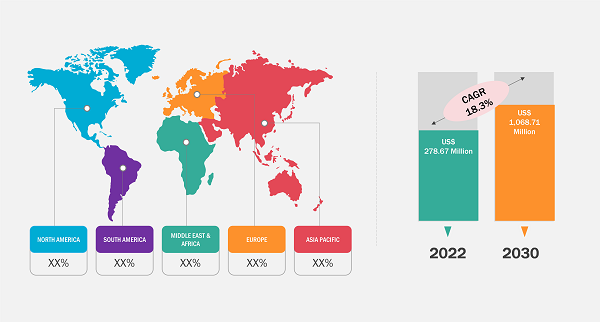 Recent Strategic Developments in Remote Tower Market
The remote tower market has undergone several significant developments, and a few of these have been mentioned below:
In May 2022, the German Aerospace Center (DLR) and DFS Aviation Services GmbH (DAS) signed an agreement for joint research activities in the field of remote airport monitoring in Braunschweig, Germany.

In December 2019, Air Traffic Control the Netherlands (LVNL) awarded a contract to Saab Digital Air Traffic Solutions (SDATS) to supply remote tower systems for the next 20 years. The contract includes installation of remote towers at Groningen Airport Eelde and Maastricht Airport, as well as a remote tower centre at Amsterdam Airport Schiphol along with provision for other airport functions.

In December 2021, Avinor ANS signed a contract with Edda Systems AS for the delivery of an ATC tower simulator for remote towers wherein the delivery is expected to be completed in 2022.
The remote tower market is driven by several players by implementing strategic activities such as investments, new launches, mergers & acquisitions, and partnerships. Frequentis Group, L3Harris Technologies Corporation, Indra Navia AS, Leonardo S.p.A, Lockheed Martin Corporation, Avinor, Raytheon Technologies Corporation, Saab AB, Searidge Technologies, and Thales Group are among the prominent players operating in the market.
Target audience for the report:
Commercial airport remote tower system manufacturers

Military airport remote tower system manufacturers

Remote tower hardware component suppliers

Remote tower software providers

Commercial and military aviation related associations, organizations, forums, and alliances

Government bodies, such as regulating authorities and policy makers

Venture capitalists, private equity firms, and start-up companies

Research institutes, organizations, and consulting companies
Scope of the report:
In this report, the market has been segmented on the basis of:
Type:

Single

Multiple

Contingency

Component

Hardware

Airport Equipment

Remote Towers Module

Network Solutions

Software

End User

Commercial Airport

Military Airport

Region

North America

Europe

Asia Pacific (APAC)

Middle East & Africa

South America

Companies profiled

Frequentis Group

Indra Navia AS

Leonardo S.p.A

Raytheon Technologies Corporation

Saab AB
Frequentis Group
Indra Navia AS
Leonardo S.p.A
Raytheon Technologies Corporation
Saab AB
---