Precision Guided Munition Market by Type (Guided Rockets, Tactical Missiles, Guided Ammunition, Loitering Munition, and Torpedoes), Platform (Ground, Airborne, and Naval), Technology (GPS and INS): Global Market Size Estimates and Forecast (2019-2030)
Code:
BMIRE00026084
|
Pages:
100
|
Industry:
Aerospace and Defense
|
Date:
Sep 2022
|
Type:
Global
The market is expected to cross US$ 31.33 billion in 2022 and is projected to hit US$ 49.46 billion by 2030, recording a CAGR of 6.8% during the forecast period.
Development of Advanced Guided Munitions Driving the Market Growth.
The increasing innovations across guided missile technologies by vendors of market is one of the major factors pushing the adoption of such technologies. Majority of the precision guided munitions market players are majorly focusing on the development of advanced sensor-based guided missiles that also provide increased range with greater reliability on target accuracy. For this guided missile manufacturers are trying to implement several advanced components such as high-performance GNSS receivers & antennas, TMV telemetry transmitters, advanced anti-jamming GNSS, and tactical data link systems to guided missile technology that provides support to perform the respective operation with increased capabilities. Further, the growing deployment of guided missiles for countermeasure applications across ground, naval and airborne platforms is another major factor pushing the vendors of this market to develop new and advanced products for the armed forces. For instance, in August 2022, the Defense Research and Development Organization (DRDO), India announced that it has successfully tested laser-guided anti-tank guided missiles (ATGM) from main battle tanks for the Indian army. Such developments are catalyzing the market growth.
Ground segment is expected to dominate the market in 2022 and is expected to retain its dominance during the forecast period as well. This is owing to increasing development of anti-tank and anti-aircraft guided missile systems by different vendors the are providing guided munitions for ground platforms. The precision guided munitions market players are also collaborating with several defense forces to understand their specific requirements and provide relevant solutions
Within the report, the precision guided munitions market players is segmented into type, platform, technology, and geography. By type, the market is segmented into guided rockets, tactical missiles, guided ammunition, loitering munition, and torpedoes. Based on platform, the market is segmented into ground, airborne, and naval. Based on technology, the market is bifurcated into GPS and INS. Geographically, the market is sub-segmented into North America, Europe, Asia Pacific, South America, and Middle East & Africa.
Increasing Developments in the Loitering Munitions to Provide Future Opportunities for Market Vendors During the Forecast Period.
The rising introduction of new and advanced loitering munitions by different vendors is another major factor pushing the deployment of precision guided munitions across various armed forces. Several armed forces are investing heavily in the procurement of such systems to increase their defense power.
The increasing deployment of UAVs across different armed forces is further propelling the demand for UAV launched loitering munitions, which is a major factor encouraging the vendors in this market to develop such products in collaboration with different armed forces. For instance, in April 2022, Solar Group became the first Indian company that has collaborated with Indian Ministry of Defense for the development of UAV launched loitering munitions for the Indian army wherein the company has plans to invest over US$ 25 million. Such instances are likely to open new market opportunities for market vendors to enter the market and cater to the growing market demand.
Growing Military Expenditure is Another Major Factor Accelerating the Precision Guided Munition Market Growth.
The growing investments by defense authorities across different countries is another major factor supporting the adoption of precision guided munitions worldwide. The government of different countries are constantly increasing their spending on their armed forces owing to rising tensions between several countries such as Russia-Ukraine, India-China, China-Taiwan, US-Russia, and Germany-Russia. After the Russia-Ukraine war began in February 2022, many countries announced an additional rise in their military expenditure for FY 2022 based on their previous spending plans. This is expected to support the investments in the procurement of ammunitions and guided munitions across different ground, airborne, and naval forces. Also, several armed forces have also awarded multiple contracts to different vendors for the development and procurement of precision guided munitions worldwide. For instance, in November 2021, EDGE Group won a contract worth US$ 880 million to supply of precision guided munition to UAE armed forces.
Furthermore, the vendors are also focusing on the development of directed energy weapon (DEW) based guided munitions. For instance, the developments in the laser-guided munitions is one of the major trends supported by the rising investments for the same by different military authorities across the world. For instance, in June 2022, TÜBITAK Defense Industries Research and Development Institute started the mass production of laser-guided munition Bozok for Turkish armed forces that have completed multiple successful testing stages during 2020-2021. Such developments are pushing the procurement of precision guided munitions across different regions.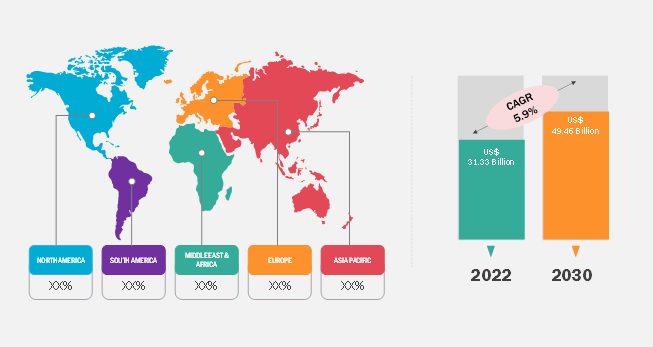 Get more information on this report :
Recent Strategic Developments in Precision Guided Munition Market
The precision guided munition market has undergone several significant developments, and a few of these have been mentioned below:
In June 2022, Elbit Systems Ltd. won a contract worth US$ 220 million from a country in Asia Pacific for the supply of its airborne precision laser-guided munition product LIZARD.
In September 2021, the Republic of Korea awarded a contract worth US$ 258 million to Boeing for the supply of 3,953 units of Joint Direct Attack Munition Guidance Kits, KMU-556 for GBU-31, 1,981 JDAM Guidance Kits, KMU-572 for GBU-38; and 1,179 JDAM Guidance Kits, KMU-572 for GBU-38, and 1,755 FMU-139 Fuze Systems.
In December 2019, the US Navy awarded a contract worth US$ 2.68 billion to BAE Systems plc for the supply of additional Advanced Precision Kill Weapon System (APKWS) laser-guided rockets.
The precision guided munition market is driven by several players by implementing strategic activities such as investments, new launches, mergers & acquisitions, and partnerships. BAE Systems Plc, Elbit Systems Ltd., L3Harris Technologies Inc., Lockheed Martin Corporation, Raytheon Technologies Corporation, Thales Group, Northrop Grumman Corporation, General Dynamics Corporation, ASELSAN AS, and MBDA are among the prominent players operating in the market.
Target audience for the report:
Guided rocket manufacturers
Tactical missile manufacturers
Guided munition manufacturers
Loitering munition manufacturers
Torpedo manufacturers
Military GPS systems manufacturers
Military INS systems manufacturers
Missile component manufacturers
Missile sensor manufacturers
Government and defense related associations, organizations, forums, and alliances
Government bodies, such as regulating authorities and policy makers
Venture capitalists, private equity firms, and start-up companies
Research institutes, organizations, and consulting companies
Scope of the report:
In this report, the market has been segmented on the basis of:
Type:

Guided Rockets
Tactical Missiles
Guided Ammunition
Loitering Munition
Torpedoes

Platform
Technology
Region

North America
Europe
Asia Pacific (APAC)
Middle East & Africa
South America

Companies profiled

BAE Systems Plc
Leonardo DRS
Northrop Grumman Corporation
Lockheed Martin Corporation
Raytheon Technologies Corporation
Companies profiled

- BAE Systems Plc

- Leonardo DRS

- Northrop Grumman Corporation

- Lockheed Martin Corporation

- Raytheon Technologies Corporation


---