Cloud OSS BSS Market by Security Type Component (Solution, Service); Deployment Model (Public cloud, Private cloud, Hybrid cloud); End-User (Large Enterprises, Small and Medium Enterprises (SMEs)): Global Market Size Estimates and Forecast (2022-2030)
Code:
BMIRE00026072
|
Pages:
100
|
Industry:
Technology, Media and Telecommunications
|
Date:
Sep 2022
|
Type:
Global
The Cloud OSS BSS market crossed US$ 20.3 billion mark in 2022 and is expected to hit US$ 58.9 billion by 2030, recording a CAGR of 14.2% during the forecast period.
Cloud OSS BSS market has been significantly growing with the rising adoption of next-generation operation systems and software (NGOSS) framework in telecom industry.
NGOSS is the Tele Management Forum (TMF) business solution framework to build next-generation OSS BSS solutions and services. The Tele Management Forum (TMF) focuses on developing fully unified and interoperable OSS BSS architecture. The growing demand for flexible OSS BSS solutions for cloud service providers CSPs, NGOSS meets the demand with the speedy growth of flexible and low-cost OSS BSS solutions and services. The rising concerns regarding integrating OSS BSS solutions with existing CSP systems can be solved using the NGOSS framework. CSPs are adopting NGOSS to integrate proficiently with new business models related to the cloud. The cloud platform allows TMF to evaluate the trends within the OSS BSS framework and its effect on the CSPs, making it easier to develop OSS BSS solutions. NGOSS allows quick customer service, automated service fulfillment, competitive differentiation, reduced integration and CAPEX expenses. NGOSS can allow the delivery of the new generation of services, fueling the growth of OSS BSS solutions and services in the market.
Within the report, the Cloud OSS BSS market is segmented into component, deployment, and end user. Based on component, the global cloud OSS BSS market is segmented into solution, service. On the basis of deployment, the market is segmented into public cloud, private cloud, hybrid cloud. Based on end user, the market is large enterprises, small and medium enterprises (SMES). Geographically, the Cloud OSS BSS market is subsegmented into North America, Europe, Asia Pacific, South & Central America, and Middle East & Africa. The Cloud OSS BSS market in Asia Pacific holds the highest growth rate and is expected to retain its position during the forecast period (2022-2030). The high growth is due to the presence of most populous countries such as China and India in the region.
Solution segment in component to hold significant share of Cloud OSS BSS market during the forecast period (2022-2030)
Based on component, the solution segment is estimated to account for a significant Cloud OSS BSS market share in 2022. It is expected to main the same position during the forecast period (2022-2030). This is due to aid to companies in predicting the conditions, calculating the output, managing market transactions, and ensuring compliance with state, regional, and national regulations.
Rising adoption in telecom sector along with reduced Capex And Opex is one of the major factors accelerating the Cloud OSS BSS market growth.
The telecom business provides a extensive range of support services, including networking, customer profile management, and numerous billing management methods, all connected with operating costs. CSPs can profit from the cloud since it offers them a comprehensive IT infrastructure at a economical cost, allowing them to improve their overall operations. Using the various resource tracking technologies, CSPs always strive to maintain track of OPEX. Telecom service providers were facing challenges in cutting operational expenses as new technologies emerged rapidly.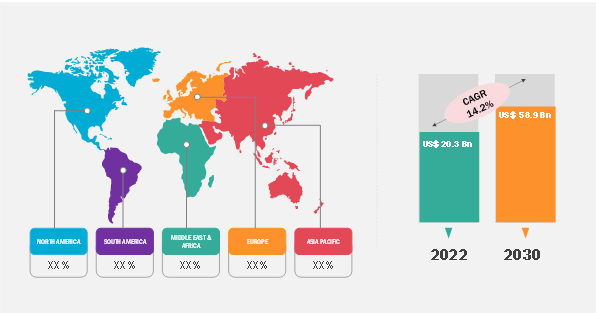 Get more information on this report :
Recent strategic developments in Cloud OSS BSS market
The Cloud OSS BSS market has undergone several significant developments, and a few of these have been mentioned below:
In March 2022, Netcracker and Deutsche Telekom both collaborated to automate the B2B services of Deutsche Telekom across software-defined LAN, WAN, and Wi-Fi environments.
In February 2022, Ericsson,Telefónica and Samsung has developed a technology solution for 5G interactive calling created on IMS data channel standard and Ericsson Cloud IMS network.
The Cloud OSS BSS market is driven by several players by implementing strategic activities such as investments, new launches, mergers & acquisitions, and partnerships. AMDOCS; Comarch SA; Telefonaktiebolaget LM Ericsson; Hewlett Packard Enterprise Development LP; Huawei Technologies Co., Ltd.; cyan Security Group; MYCOM OSI; Nokia; Oracle; and Cerillion are among the prominent players operating in the market.
Target audience for the report:
Cloud OSS BSS software providers
Cloud OSS BSS service providers
Cloud OSS BSS associations, organizations, forums, and alliances
Venture capitalists, private equity firms, and start-up companies
End users of Cloud OSS BSS
Research institutes, organizations, and consulting companies
Scope of the report:
In this report, the Cloud OSS BSS market has been segmented on the basis of:
Component
Deployment Model

Public cloud
Private cloud
Hybrid cloud

End-User

Large Enterprises
Small and Medium Enterprises (SMEs))

Region

North America
Europe
Asia Pacific (APAC)
South & Central America
Middle East & Africa

Companies profiled

AMDOCS
Comarch SA
Telefonaktiebolaget LM Ericsson
Hewlett Packard Enterprise Development LP
Huawei Technologies Co., Ltd.
cyan Security Group
MYCOM OSI
Nokia
Oracle
Cerillion
Companies profiled

- AMDOCS
- Comarch SA
- Telefonaktiebolaget LM Ericsson
- Hewlett Packard Enterprise Development LP
- Huawei Technologies Co., Ltd.
- cyan Security Group
- MYCOM OSI
- Nokia
- Oracle
- Cerillion


---